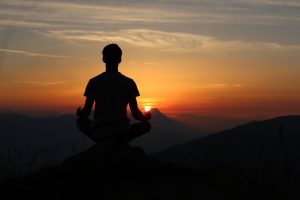 If you're feeling "stuck" or believe that anxiety and depression are dictating your life & you struggle with feeling overwhelmed, stressed, worried or depressed, I understand your suffering. I'll help you to reduce your stress, worry & depression so that you can live a truly fulfilling life. Imagine, instead, waking up each day feeling grateful & excited to begin your day. You can learn to break free from your mind's judgments, harsh criticisms or stories about who you are & what you are incapable of doing.
Instead of being entangled by your mind's dreaded future or painful past, you can learn to live in the present & create the future that you wish to live to fulfill your deepest desires. As you learn to create the experiences that enliven you, you'll radiate with more vitality & fulfillment.
What separates my services from other practitioners is my holistic integrative approach & the fact that you'll learn to nourish your body, mind & soul.  Together, we'll work to discover the root cause(s) of your condition.  You'll also learn simple skills that are effective & work
---
If your ready to make a change, contact me to schedule your initial consultation.
In addition, I provide online services via Doxy.me.
---
My comprehensive approach and the integrative care that I provide is different and thus requires more time and attention than what you would receive in a more mainstream setting. Furthermore, most HMO's and PPO's only authorize a limited number of sessions, and even if you feel you may need more sessions, they may not authorize them, nor allow you to see me more often or past their cut-off date, and you may have to change to a different therapist/coach outside their network and pay full fee midtreatment. I also may be required to give detailed reports regarding your issues and progress to get more sessions authorized, and your treatment plans may be dictated to me by your managed care representative. In addition, all your information, including diagnoses, goes into a central computer bank which can be accessed by any physician, college, law enforcement agency, military group, insurance company, etc. and can be used against you (or your children). I do not agree with these practices, believe that they violate my ethical principles and do not foster a therapeutic environment. Thus, I do not accept third party insurance payments. I realize that this may be frustrating; but it is difficult to get outstanding care at discounted insurance based pricing. To make the process easier I will provide you with bills that should be acceptable to your insurance carrier so you can be reimbursed directly if you are eligible